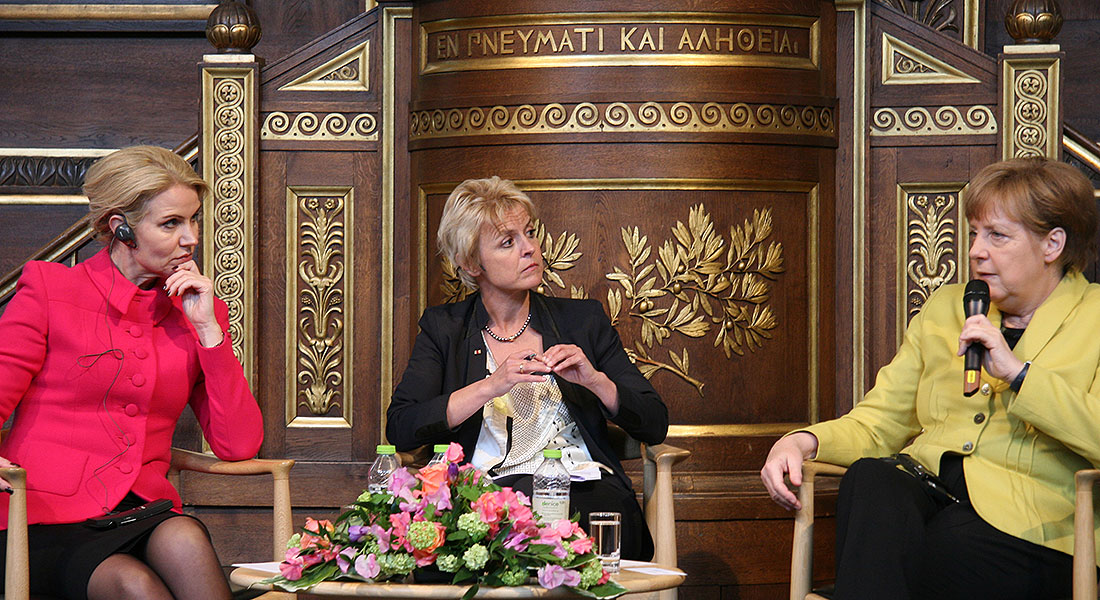 UCPH alumni Prime Ministers of Denmark
Introduction
From 1772 to 1848, members of the Privy Council were also regarded as prime ministers. Thus, there were several with that title at the same time.
The Constitution of Denmark was signed on 5 June 1849 by King Frederik VII, ending absolute monarchy and introducing constitutional monarchy.
Anders Sandøe Ørsted was prime minister as well during the absolute monarchy (1842-1848) as after its abolition (1853-1854).
37 UCPH alumni have become Prime Minister of Denmark
Mette Frederiksen (b. 1977), Master in African Studies 2009 (Prime Minister since 2019)
Lars Løkke Rasmussen (b. 1964), Master of Laws 1992, (Prime Minister 2009-2011 and 2015-2019)
Helle Thorning-Schmidt (b. 1966), MSc in Political Science 1994, (Prime Minister 2011-2015)
Poul Nyrup Rasmussen (b. 1943), MSc in Economics and Management 1971 (Prime Minister 1993-2001)
Poul Schlüter (1929-2021), Master of Laws 1957 (Prime Minister 1982-1993)
Poul Hartling (1914-2000), Master of Theology 1939 (Prime Minister 1973-1975)
Jens Otto Krag (1914-1978), MSc in Economics and Management 1940 (Prime Minister 1962-1968 and 1971-1972)
Viggo Kampmann (1910-1976), MSc in Economics and Management 1934 (Prime Minister 1960-1962)
Vilhelm Buhl (1881-1954), Master of Laws 1908, (Prime Minister from May to November 1942 and from May to November 1945)
Erik Scavenius (1785-1864), MSc in Economics and Management 1901 (Prime Minister 1942-1943)
Thomas Madsen-Mygdal (1876-1943), MSc in Agriculture 1902 from the former Royal Veterinary and Agricultural University, now part of UCPH (Prime Minister 1926-1929)
Michael Petersen Friis (1857-1944), Master of Laws 1883 (Prime Minister from April to May 1920)
Otto Liebe (1860-1929), Master of Laws 1882 (Prime Minister from March to April 1920)
Carl Theodor Zahle (1866-1946), Master of Laws 1890 (Prime Minister 1909-1910 and 1913-1920)
Ludvig Holstein-Ledreborg (1839-1912), MSc in Economics and Management 1866 (Prime Minister from August to October 1909)
Niels Neergaard (1854-1936), MA in History 1879 and MSc in Economics and Management 1881 (Prime Minister 1908-1909 and 1920-1924)
Johan Henrik Deuntzer (1845-1918), Master of Laws 1867 and law professor at the University of Copenhagen 1872-1901 (Prime Minister 1901-1905)
Hannibal Sehested (1842-1924), Master of Laws 1869 (Prime Minister 1900-1901)
Hugo Egmont Hørring (1842-1909), Master of Laws 1868 (Prime Minister 1897-1900)
Jacob Brønnum Scavenius Estrup (1825-1913), degree in forestry 1844 from the Forestry Examination Commission whose activities were in 1869 taken over by the Royal Veterinary and Agricultural University, later merged with UCPH (Denmark's longest serving Prime Minister 1875-1894)
Christen Fonnesbech (1817-1880), Master of Laws 1840 (Prime Minister 1874-1875)
Christian Emil Krag-Juel-Vind-Frijs (1817-1896), Master of Laws 1842 (Prime Minister 1865-1870)
Ditlev Gothardt Monrad (1811-1887), Master of Theology 1836 and MA in Semitic Philology in 1838 (Prime Minister 1863-1864)
Carl Eduard Rotwitt (1812-1860) Master of Laws 1834 (Prime Minister 1859-1860)
Carl Christian Hall (1812-1888), Master of Laws 1833 and Doctor of Laws 1840 (Prime Minister 1857-1859 and 1860-1863)
Peter Georg Bang (1797-1861), Master of Laws 1816 and Doctor of Laws 1820, and appointed professor of Roman Law in 1830. (Prime Minister 1854-1856)
Christian Albrecht Bluhme (1794-1866), Master of Laws 1816 (Prime Minister 1852-1853 and 1864-1865)
Adam Wilhelm Moltke (1785-1864), Master of Laws 1805 (Prime Minister 1848-1852)
Anders Sandøe Ørsted (1778-1860), Master of Laws 1799 and Doctor of Laws in 1813 (Prime Minister 1842-1848 and 1853-1854)

Poul Christian Stemann

 (1764-1855) Master of Laws 1781 (Prime Minister 1827-1848)

Otto Joachim Moltke

 (1770-1853), Master of Laws 1788 (Prime Minister 1824-1842)

Ove Malling

 (1747-1829), Master of Theology 1766 (Prime Minister 1824-1829)

Ove Ramel Sehested

 (1757-1838), Master of Laws 1775 (Prime Minister 1824-1831)

Johan Sigismund von Møsting

 (1759-1843), Master of Laws 1781 (Prime Minister 1814-1842)

Frederik Julius Kaas

 (1758-1827), Master of Laws 1782 (Prime Minister 1814-1827)

Frederik Moltke

 (1754-1836), Master of Laws 1775 (Prime Minister 1810-1824)

Ove Høegh-Guldberg

 (1731-1808), Master of Theology 1754 (Prime Minister 1772-1784)
Further information