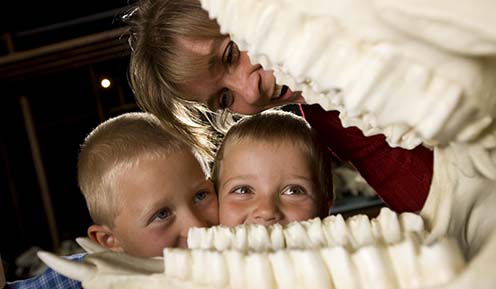 Visit the University
There are a number of options to visit the University to experience research and meet researchers and students. This may for example take place at the University's many museums, during school visits or at public events.
Museums
At the museums, you can be in direct contact with the University's collections and research. The museums are the Natural History Museum of Denmark (the Botanical Garden and the Zoological Museum), the Medical Museion, the Museum of Herbal Medicine, the Museum of Veterinary History and the Øresund Aquarium.
Read more about the University's museums
For academic delegations and partner institutions
Academic delegations or delegations from partner universities of the University of Copenhagen, wishing to visit the University, are kindly asked you to fill in this
Visit Request Form and e-mail it to inter@adm.ku.dk.
For primary and secondary schools
Pupils and teachers in primary and secondary schools have many different opportunities to experience research and education at the University of Copenhagen - individually or as a class.
All academic offers can be found on the University's
Portal for schools and secondary schools - FOKUS.ku.dk (In Danish)
Open house
Every year in the week 9, the University organises open-house events for potential students.
Find more info about open house on the study portal
Culture Night
On the annual Culture Night in mid-October - always Friday in week 41 - the University welcomes visitors of all ages. Faculties, departments, libraries, museums and centres open their doors to an evening full of exciting activities.
Read more about Culture Night (In Danish)
Guided tours
The old university buildings at Frue Plads
The Danish University Extension (Folkeuniversitetet) offers guided tours for the general public in the old university buildings at Frue Plads, including the main building, the Senate House (Copenhagen's oldest building from around 1420) with the university prison known as the Carcer, the Refectory (placed in a cellar just as old as the Senate House), the Museum Building, and the Library Building.
Search for "Rundvisning på Københavns Universitet" and register at the 'Folkeuniversitetet' website (In Danish)
Other recurring events
Annual Commemoration where the University awards medals and confers honorary doctorates.
Education Day where lecturers and students can inspire each other.
Matriculation Ceremony where the University welcomes new students.
Sonning Prize Celebration where Denmark's largest culture prize is awarded.
The University also participates actively in the Science Festival, the Danish Natural Sciences Festival, Forest Day and Denmark's Political Festival.
Read more about annual events at the University
Using University facilities
Businesses and external researchers may in certain cases use the University's research facilities, and associations and clubs may rent premises for events that are associated with the University.
Read more about the use of University facilities
Museums and gardens

The University is home to some of the most exciting museums and gardens in and around Copenhagen.