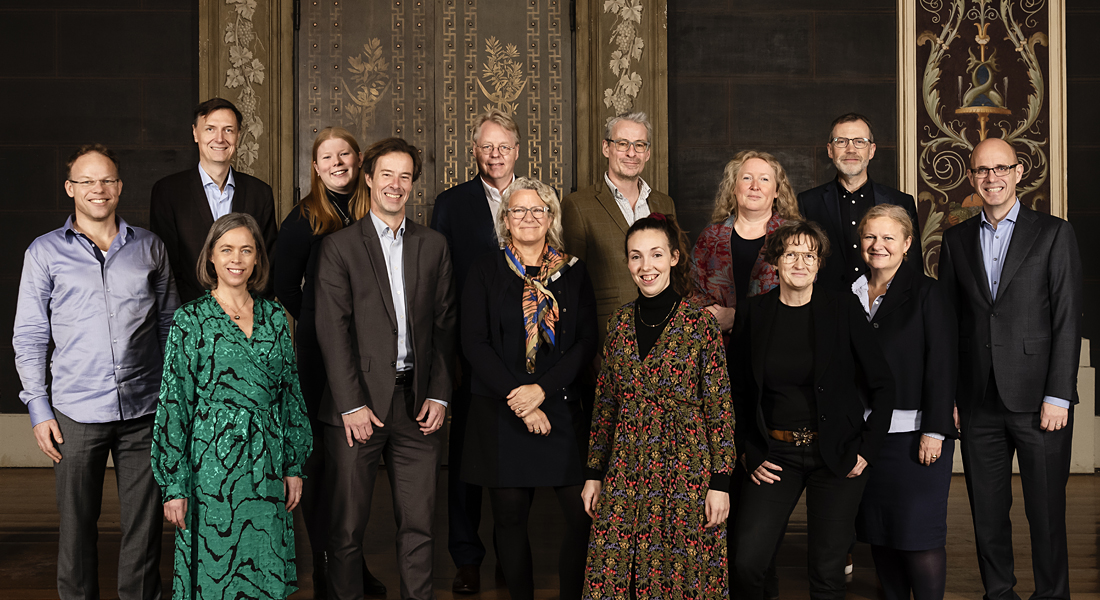 Board
Purpose and composition
The Board is the University's highest authority, and its mandate is to safeguard the University of Copenhagen's interests as a research and educational institution. Among other things, the Board determines the frameworks for the university's organisation and sets long-term goals for its activities and development.
The Board is made up of six external members and five internal members. The members serve on the Board for a four-year period from the date they join. This does not apply for student representatives, who are up for election every other year. Board meetings are held approx. eight times a year with the participation of the University's top management.
The Board 2021
Photo: The Board and the Senior Management, February 2020.
Top row from the left: University director Jesper Olesen, board member Olivia Lønager Boesen, board member Jan S. Hesthaven, former board member Eske Willerslev, board member Dorte Brix and board member Mikkel Bogh.
Bottom row from the left: Board member Jesper Grodal, prorector Bente Merete Stallknecht, former board member Carsten Krogh Gomard, chair Merete Eldrup, former board member Ida Karoline Bach Jensen, board member Agnete Raaschou-Nielsen, board member Birgitte Vedersø and rector Henrik C. Wegener.
Out of the picture: Board member Lars Rasmussen, board member Pia Quist and board member Anders Nørrekær Mortensen. 
The Rules of Procedure for the Board at University of Copenhagen
Contact
Inquiries about the Board:
Cæcilie Marquard Otzen
Rector's Office
Nørregade 10
DK-1165 Copenhagen K

+45 35 33 73 24
Bestyrelsesmoder@adm.ku.dk
Statutes
The newest version of the Statutes of the University of Copenhagen (from august 2021) can be found here: